We love sharing the unique stories and perspectives of creatives who use journals and planners as an artistic outlet and a system of organization. We asked Claire, a student and podcaster who goes by @suncerulean online, to share the story of how she became an avid bullet journal user, and to offer some advice for those getting started with journals of their own.
Here's Claire's story:
Hi there! My name is Claire, and I'm a college freshman studying computer science at the University of Michigan. Since 2017, I've been bullet journaling & running my Instagram account, @suncerulean, and I'm so excited to be sharing a bit about my bullet journal story with you all today. 
Growing up, I was always quite interested in journaling & stationery (I was definitely that girl with the 13 notebooks and 27 colored pens), but I actually stumbled across bullet journaling by accident one day in 8th grade when I was trying to learn more about a different artistic endeavor. The concept immediately intrigued me, and I ended up falling down a pleasant rabbit hole, immersed by the uniqueness & practicality of the system. Eventually, I became familiar with some of the OG bullet journal accounts such as @boho.berry, @tinyrayofsunshine, and @prettyprintsandpapers (who are still big inspirations for me today!), and I decided to try it out for myself.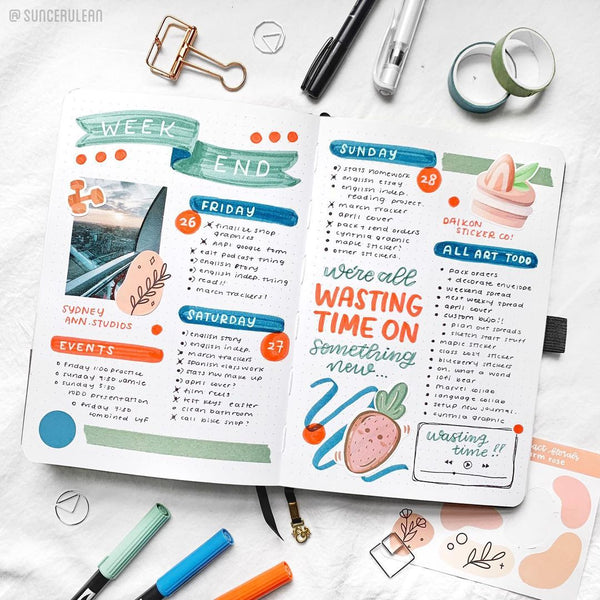 Now, to clarify, a "bullet journal" isn't actually a specific art style or template - it's a system of organization that lives inside a blank notebook, and I think that creativity is something that makes the concept so appealing. You can customize the structure to your own schedule and aesthetic – I've seen everything from detailed gouache paintings to collage heavy weekly spreads to minimalist calendar pages – but the idea of creating a bulleted to-do list from scratch is what fundamentally makes something a "bullet journal''.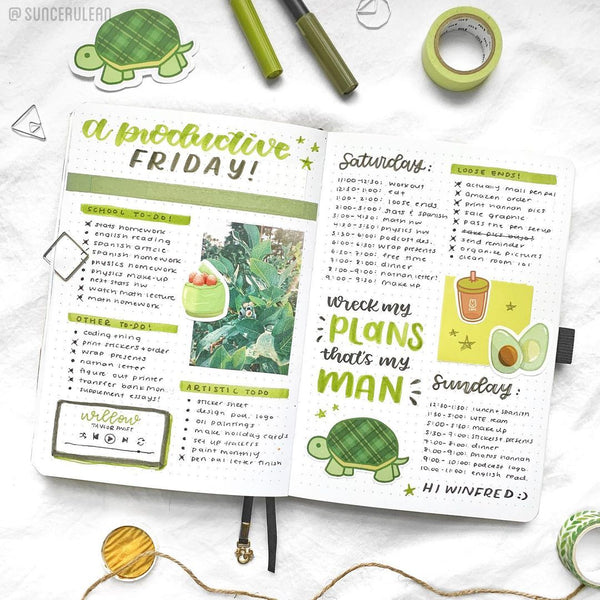 The enthusiastic 8th grader in me couldn't wait to sketch out all the habit trackers, monthly calendars, and mood charts I had seen online, but I didn't anticipate how much work filling those logs out would be. To actually obtain accurate data and benefit from these trackers and lists, you need to update & color in little squares of information every day, a level of commitment I definitely wasn't prepared for. My ambitious catalogs looked promising in the beginning, but eventually, the growing amounts of missing information and made-up data made me realize that perhaps these Pinterest-inspired tracker spreads weren't for me.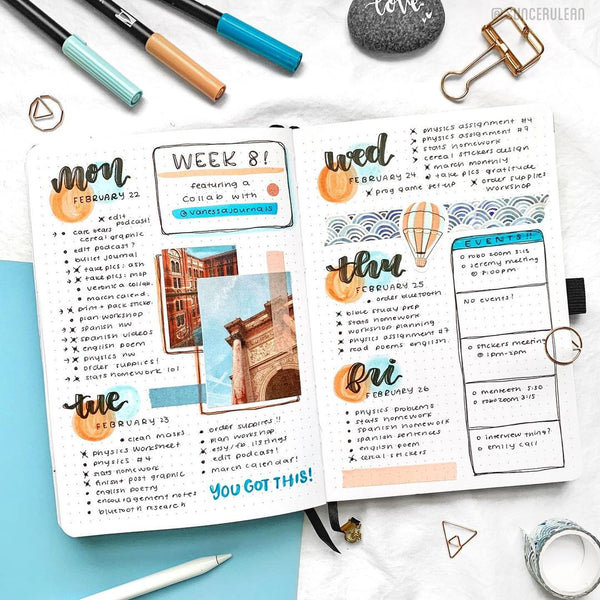 I suppose this brings me to my first recommendation for those starting out: effective bullet journaling is a commitment, so don't bite off more than you can chew! While your enthusiasm for the hobby might start off strong (like it was for me), inevitably, it is pretty difficult to consistently keep up with your notebook. Be bold and experiment with different spreads, but remember that the purpose of bullet journaling is to make your life easier, not to add extra unmeaningful steps to your daily routine. Every spread you create should come with reason and persistence.
But while it's good to stay practical, bullet journaling can also be an avenue of creative expression. As an artist, I used to enjoy pouring hours into oil paintings and fancy pencil drawings. I tried really hard to stay creatively active as I got older (and busier), but it was difficult to find the motivation to dedicate large chunks of time to art. Bullet journaling ended up being my perfect in-between for this desire to create - I turned to watercolor cover pages & colorful weekly spreads as a substitute for the traditional art pieces I used to make. Depending on my time availability, I could customize the amount of effort I put into each journal spread.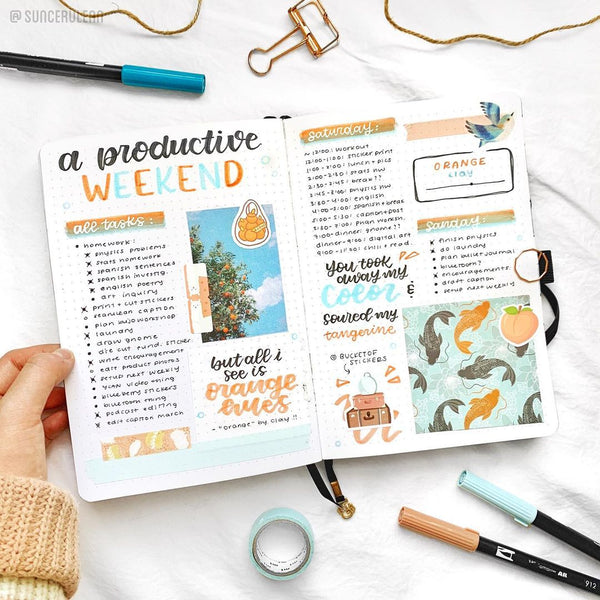 And I suppose that's the coolest thing about the bullet journal itself - it's both a system of productivity & a form of creative expression, so play those chords to your strengths! Are you a busy grad student, simply looking for a place to jot down assignments and deadlines? Are you a middle schooler with lots of free time, excited to incorporate everything from cool themes to brush lettering to collages? Or maybe you're someone else - regardless of where you're at, there's a way to adopt the system to fit your specific style & needs. Don't feel pressured like you need to create a certain way (remember what I said earlier about not biting off more than you can chew!), but also don't be afraid to experiment and push yourself artistically.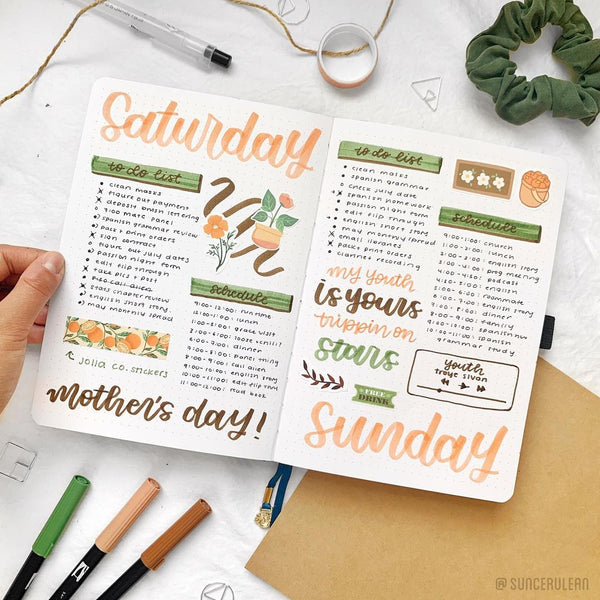 Closing out, I would definitely encourage anyone interested in bullet journaling to try it out. Just go for it - it's such a beautifully designed system, and there's so much room for you to explore and mold it to become exactly what you need, regardless of who you are.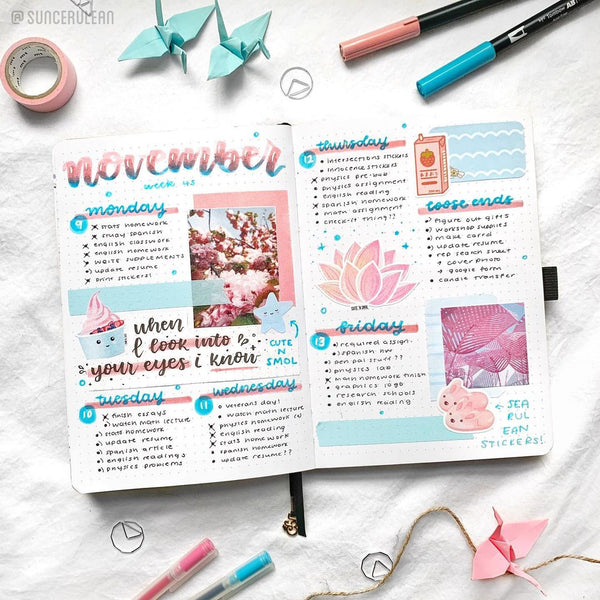 Thanks to Claire for sharing her story. Be sure to follow her at @suncerulean on Instagram.